International Folk Dancing in Fleet
We are a very friendly group, and extend a warm welcome to newcomers, whether complete beginners or experienced dancers. We enjoy dancing authentic folk dances from around the world. No partner is needed; most of our dances are in circles or short lines, with a few partner dances and the occasional set dance. We encompass a wide age-range, and currently come from Hampshire, Surrey and Berkshire.


Our venue is conveniently situated, just off the M3 at Junction 4a. Alternatively it is only a few minutes walk from Fleet Railway station, and it is also easy to reach from the A31. The hall has its own car park immediately outside. See below for more detailed directions, or contact Linda.
A typical Tuesday evening for us usually starts off with two or three easy warm-up dances, followed by recently learnt dances, old favourites, perhaps a completely new dance or a resurrected dance, and probably some requests. Halfway through the evening we have a refreshment break which, besides being sociable, also serves as an opportunity to exchange information about dancing events. After more dancing following the break, we go home on a high, well exercised in mind and body, happy in spirit, and looking forward to the following week.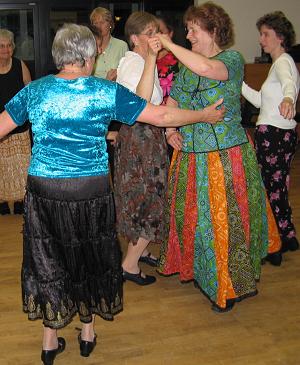 We dance every week, with a short break over Christmas and Easter and a longer break over the summer. At the end of each term we have a party night, when we enjoy eating as well as dancing! We are affiliated to the SIFD (Society for International Folk Dancing) and receive information via the SIFD about international folk dance events around the country and in London. A highlight of each term is our guest workshop led by an invited SIFD teacher.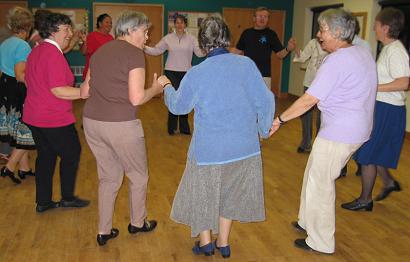 Dances in our current repertoire come from Albania, Armenia, Austria, Bulgaria, China, Czech Republic, England, Estonia, France, Germany, Greece, Holland, Hungary, Israel, Italy, Latvia, Macedonia, New Zealand, Peru, Philippines, Poland, Polynesia, Portugal, Romania, Russia, Scotland, Serbia, Spain, Sweden, Taiwan, Turkey, Ukraine and Wales.



Of course everyone has their favourite dances, and their pet hates, and sometimes one person's absolute favourite is someone else's absolute least favourite. We do them all anyway! A dance that is currently everyone's favourite is Hora Fun Moldova. Deep sighs of satisfaction resound around the room as the haunting Klezmer music comes to an end.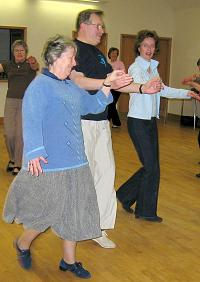 Directions - how to find the Fleet International Folk Dancers
From the direction of the M3 junction 4a, or from Fleet railway station, King's Road (B3010) is a left hand turn at traffic lights on the A3013, and the hall is a very short distance along King's Road on the left hand side. Coming from the direction of the A31, King's Road is straight ahead at traffic lights on the A323, and the hall is about half a mile along King's Road, on the right.

There are of course many other ways besides using the M3 or A31, depending on where exactly in Hampshire, Surrey or Berkshire you are coming from, and naturally anyone from further afield is most welcome too. These notes are largely intended to pinpoint where the hall is to be found. We are very lucky with our warm, inviting, very recently built hall, which has a good wooden dance floor, a very welcoming entrance hall with easy chairs, and excellent facilities.


Current Hampshire members come from the Fleet area and from Aldershot, Cove, Farnborough and Hook; members from Surrey currently come from Guildford, Woking and the Farnham area, and Berkshire members currently come from Ascot, Sandhurst and Wokingham. The current shortest journey is 3 minutes on foot, and the longest journey 25 – 30 minutes by car. Top of Page